Did you know? Snuggling with your dogs can be as rewarding for you as it is for them! Now there are some exceptions which I will cover in a minute. But in general, you and your pups will both reap amazing benefits from warm, comfy cuddles in bed.
Warmth, security, protection, stress, and depression relief, lowering your heart rate, and even experiencing pain relief can all result from sleeping with your dog, and your pup often has similar sleep success.
There are at least dozens of scientific studies that prove that cuddling together is a great idea. There are also some studies that demonstrate that snuggling in the bed it is not, depending on the circumstances.
Let's explore some of the advantages and disadvantages of sleeping with your dog.
A few pros
According to Time.com, the good news for dog lovers is that letting your four-legged friend into the bedroom, according to a new Mayo Clinic study—may actually help you rest easier.
"Lead author Dr. Lois Krahn, a sleep medicine specialist at the Center for Sleep Medicine at the Mayo Clinic's Arizona campus, says that for some owners, sleeping with an animal companion in the room can be comforting. To have a purring cat or a well-behaved dog nearby may be very relaxing and conducive to sleep. Provided everyone sleeps well, it can be a benefit."
Beyond having your pet in your bedroom, Healthline.com states that a dog sleeping in bed not only provides comfort and security but boosts mental health as well.
"Pets help relieve stress and anxiety. They foster social and emotional connections, which can affect mood and overall mental health.
Studies also show that human-animal interactions may benefit stress-related factors, such as:
cortisol
heart rate
blood pressure
There's evidence showing they may help:
reduce stress-related factors such as epinephrine and norepinephrine
lower aggression
enhance empathy
improve trustworthiness and trust in others
Studies also show that people with long-term mental health problems should consider pets as a main source of support."
A few cons
A dog that snores, slobbers, or overheats the bed is probably not an ideal sleep mate. Pretty obvious! You may wake up tired or need a daytime nap. 
Pets can carry allergens like dust and pollen into your bed, aggravating severe allergies and asthma.
Bacteria, parasites, and fungi can all spread from dogs and cats to humans Very young, very old, and immune-compromised people are particularly at risk of infection.
Summary 
Even though Cesar Millan, the famous Dog Whisperer, advocates having your dogs sleep in your bedroom but not in your bed, he also advises, "You may prefer to have your dog sleep in bed with you. It is perfectly natural for a dog to sleep with other pack members, and it is also a powerful way to bond with your dog. But don't forget the rules, boundaries, and limitations; it's your bed—not your dog's."
Here's an important note from pethelpful.com:
There is much written by experts that suggest that allowing your dog in your bed sends mixed messages, that it lowers your pack status, and that a dog who shares a bed considers himself an equal on the pack pole. On the other hand, plenty of non-experts report that their dogs slept with them for years without a hitch.
Notwithstanding health and emotional issues that must be taken into consideration, I must conclude that based on my own experience, if your dog is well-behaved and you wake up feeling refreshed, then roll over and let them hop in!
Notes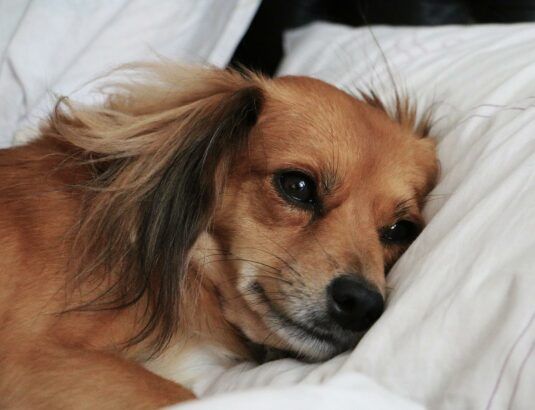 Click here to see some effective natural remedies for dogs with sleep issues. These are great solutions to ready your dog for a peaceful sleep.
Sleepytime! Here are some expert tips from the American Kennel Club on sharing a bed with your pet.