ST. PATRICK'S DAY WITH DOGS
Oh, I know what you're probably thinking. Lots of Irish folks enjoying themselves at their local pub with a big plate of fish and chips. Maybe a big bowl of rich Irish Stew made with traditional Irish Guinness Beer. Oh yeah, and everyone wearing silly Irish Leprechaun hats while hoisting a pint of Guinness to toast their all-time favorite holiday. St. Patrick's Day. The day when everyone professes to be a little Irish. Even your dogs! Here are some fun ways to spend St. Patrick's Day with dogs. Get creative!
In Ireland, interestingly enough, you cannot always take your pooch to the pub with you. Ireland isn't known for its dog-friendly pubs, cafes, or restaurants. So, if you are a dog parent, you'll have to figure out your own ways to hang out with your best buddy on St. Paddy's Day. To help you decide what best suits your lifestyle and taste, I've compiled a few ideas for you.  They all look great. Have fun!
How about a romp in the park?
Dogs like nothing more than to run in the park, sniff every tree and bush, chase every squirrel up a tree, and maybe even find a few mud puddles to splash and roll in. Hey! Don't judge. Pups love puddles. The muddier the better.
Bake some cookies.
He'll love them, especially if you use the yummy recipes on our website. Just check out the cookie of the month. And yes, we have one especially for Fido's St. Paddy's Day in this month's newsletter. Every month a new and yummier cookie from the month before. All tried and true by our resident Taste Tester, Drummer.
Dog Beers.
Yes, you read this correctly. Even I had no idea there was such a thing let alone a market for it. But, obviously, there is. You can give your pup a beer. No, it's not YOUR beer, but it is one to share with your buddy, if so inclined. Dog beers have become increasingly popular among pet parents. Dog beer was originally found only in the U.S. However, now it can even be found in stores in Ireland and all across Europe. So, while you hoist your pint, don't forget to pour his dog-friendly beer into his bowl.  Remember, people's beers are toxic to dogs in direct proportion to their weight. So, keep your beer far away from Fido. A handful of companies are making dog "beer' in the form of savory broths, meal additives and liquid treats your pooch will enjoy.
Below I've listed a few to try and where they can be purchased. And if you're brave enough to give your best buddy his very own brew, please let us know what you both think. Would love to hear all your comments.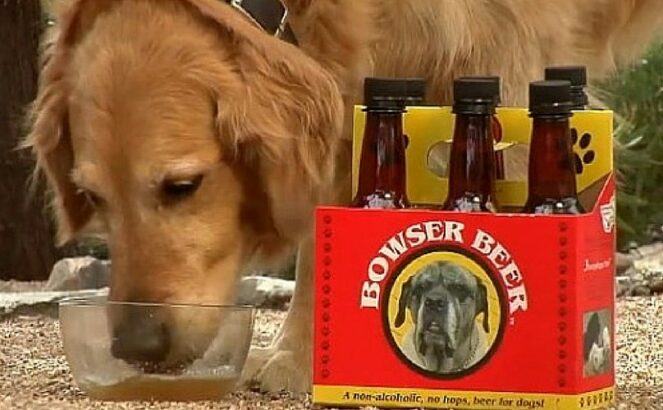 Shopping Trip Together.
Take your precious pooch on his very own shopping excursion. Buy him something green for St. Paddy's Day. Maybe a green collar and matching leash. How about a green squeaky toy? Just have fun. There are so many pet-friendly stores for you both to visit. Let him pick out his own surprise. Remember, even doggies are Irish on St. Paddy's Day. Have a blast and use your imagination.
Pot-Luck Party.
Gather up all your pet friends and their pups and plan a pet parade ending in a pot-luck at someone's backyard or pet park. And for the parade, don't be shy about dressing up your pet and yourself for the WEAR'N OF THE GREEN parade and party. It should be loads of fun for everyone. Two-legged hoomans and four-legged furry friends, as well.
However you decide to celebrate St. Patrick's Day with your doggie, just be sure to make it loads of fun for you both. Take lots of pictures and videos to share with us all.
And most importantly… STAY SAFE!
HAPPY ST. PATRICK'S DAY TO YOU ALL!