Have you heard of Cole, The Deaf Therapy Dog?
"Cole was named the 2022 Therapy Hero Dog in the American Humane Hero Dog Awards®, and he is dedicating his journey to all those pups and people who have been overlooked because they were born a little different. He urges the world to see the able rather than the label." ~ American*Humane
Cole, the Deaf Therapy Dog, has a most gentle heart. He inspires people to be the best they can be and to be grateful for their blessings. It's okay to be different, he demonstrates. We can all learn a lesson from this cuddly guy!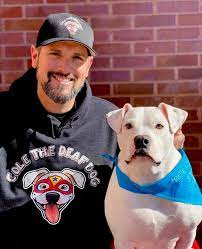 Chris Hannah, a music teacher at Dr. William Mennies Elementary School in Vineland, adopted him and enlisted him in his elementary school program.
This special dog taught the kids about hearing loss conditions and how everyone deserves love. Cole goes to school with Chris every day.
Look at Cole as an example
"Looking through the eyes of a dog changes the perception, there's no preconceived notions in somebody's mind, whether it's a child or it's an adult," said Chris. "As soon as they put themselves through his eyes and his life story, all of a  sudden, their hearts opened up in a little different way. What I always tell my students at my school, is to look at Cole as an example."
A disability is not an inability; it is a superpower
Most of us know the benefits of owning a dog. But we may not have realized that for both humans and animals alike, a disability is not an inability; it is a superpower. Chris taught Cole to read lips and understand hand motions and commands, which helped him to motivate his human buddies. When Cole first became certified as a therapy dog, his first outing was to a veteran's home with about 300 aging veterans.
Did you know? Cole knows how to bowl! Turns out, there is a bowling alley in the veteran's home. It's a four-lane state-of-the-art bowling alley. Usually, there are about seven residents that come down to bowl. When Cole is bowling, attendance triples or quadruples, so he's getting these residents out of their rooms and making them more active.
The Deaf Dog & Friends Foundation
"Today, Cole has his own foundation – the Deaf Dog & Friends Foundation. Cole attends school and community assembly programs across the region, taking his life journey, including special needs and breed discrimination, and turning them into life lessons that inspire others to change the way they look at disabilities.
He promotes acceptance, advocacy, and inclusion.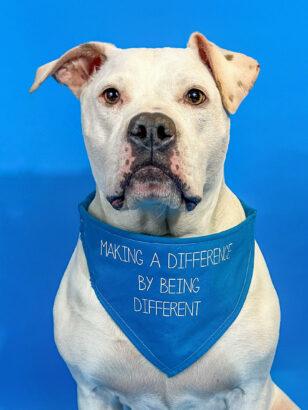 Outside of his daily work at school, Cole is the mascot of the New Jersey Veterans Memorial, where he is not only an avid bowler but also earned the Presidential Silver Service Award for more than 600 volunteer hours." ~ American*Humane
The Team Cole Project
The Team Cole Project has been featured on the Rachael Ray Show, Good Morning America, Access Hollywood, Entertainment Tonight, 6ABC, PHL17, NBC, CBS, KYW News-Radio. Cole is the first canine to win the Philadelphia Phillies All-Star Teacher award. Cole is also a hospice therapy dog with Angelic Health Palliative & Hospice Care and is certified through Bright & Beautiful Therapy Dogs, INC.