Written by Guest Contributor Melonie Richards
Unconditional love
My childhood family always had two extra members roaming around our home. I say members loosely as the extras were fed and cared for, but not with an elevated status that granted privileges and rights per se. My parents grew up on a farm where animals were primarily outside the house. Despite my parent's farm-life mentality, we had domesticated animals in our home. The cat was my pet, and the dog belonged to my older brother. We learned some good life lessons about responsibility by feeding and cleaning up after our furry friends. We loved having a listening ear and unconditional love when we felt sad or upset. 
Timing is everything
My husband on the other hand was the youngest of five, and his parents were done with pets by the time he entered the world. He also had a few unfortunate encounters with dogs along the way. Early in our marriage, we had a cat for a short while until our daughter was born. Next, our son came along, and the busyness of young children seemed to be all we needed. Once our children reached school age, they started asking for a dog, but the timing never seemed right.
At one point, I actually began to pray about bringing a dog into our home. I knew it had to be the right dog to keep family harmony intact. The year came when our daughter, Rae, was heading off to college, and we knew our son would miss her terribly. He also had two close friends change schools and deeply felt their absence. We started talking about the possibility of adding a four-legged friend to our family.
Missed opportunity
As it so happened, a co-worker of mine bred English Labradors. The colleague had seven adorable puppies available to adopt. On a sunny summer day, we headed out to the farm to play with and possibly adopt one of the dogs. The sweet little fur balls were beyond cute running, jumping, and tumbling on the grass. Excitement grew in my heart as I felt sure we would be headed home with a puppy.
When I asked our son, Luke, if he wanted one, he adamantly said no. I was shocked! How could he deny such cute dogs? He stated that a puppy would be too much work. I really could not believe what I heard. We headed back home with no success in dog adoption. I felt sad knowing we missed out on such a wonderful opportunity.
Taking a chance
A week later, my associate asked if we might be interested in Piper, a five-month-old black lab. She said we could take her on a trial basis and if I didn't work out, we could bring her back to the farm. Amazing! A well-trained, beautiful English lab who had a calm and docile personality. We decided to move forward with our dog adventure.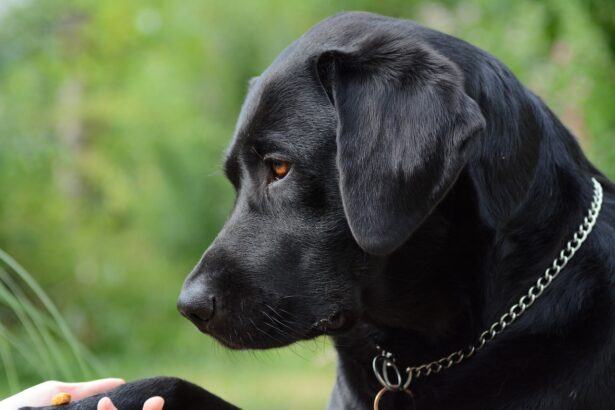 Luke and I watched dog training videos and read several books to become more informed on the care of dogs. He prepared himself to show Piper who was in charge. Luke stood in front of her food bowl so she would not charge the bowl. He followed the training videos precisely. A couple of minutes passed, then five minutes and Piper sat patiently. Finally, Luke plopped the food bowl in front of her. She never once charged the food bowl.
Piper has certainly been the right dog for our family. She has brought unconditional love, companionship, joy, and laughter to our home. Piper has also become well-loved by students and staff at our school. She has taken the role of the emotional support dog in the special needs classroom as well as a reading buddy to other students. Piper helped Luke with the transition of our daughter moving out and his friends leaving the school.
A gift from God
Little did we know what a gift Piper would be when tragedy struck our home in March of 2020 when our fourteen-year-old son suddenly died. We were shocked and in need of comfort. Piper has been incredibly helpful in our season of grief. She has an intuitive nature that senses sadness bringing comfort to those who are crying. Piper has helped push us outside when we might have wanted to lay in bed drowning in our tears.
She has also brought laughter as she plays with a toy or nudges your hand to be petted. We initially thought we adopted Piper for Luke, but as it turns out, she has been for each of us. We are grateful we took a chance on bringing a dog into our home. Piper was certainly a divinely appointed pet.
Note: Melonie Richards is our newest contributor. Learn more about her on Our Team page.