This guest post is presented by our awesome friends at A Critter Sitter Co, Lisa Lewis and Mary Fab. Lisa and Mary have been caring for our dogs for more than ten years. They have more than 15 years of vet tech experience and are certified in pet CPR and first aid. Thankfully, we have never had to avail ourselves of these services under their careful watch. If you reside in the Sarasota-Bradenton area in Florida, check them out. If not, read on to learn what to look for in a pet sitter near you.
Choosing a pet sitter is one of the most important decisions to ensure the safest care of your pets. 
Should you hire a local, independent pet sitting company or use a franchise?  
Using an app to find a sitter may be tempting. However, some of our clients have shared that before hiring us, they suffered countless disappointments. Disappointments included franchise sitters just not showing up, different sitters on each visit (no consistency), and equally as astounding, adults signed up as the sitter while they were actually paying teens to do the sitting! Additional complaints of doors being left open and the house being unlocked led clients to call us.
Why Choose Us?
We have been serving the Sarasota/Bradenton area since 2005

We are insured and bonded

Clients get to know us at the initial consultation. Right from the start, we establish trust and develop a solid rapport

We customize a program to meet the client and pet needs

We have no employees resulting in one of the two owners doing the sitting

We text clients updates and pictures at each visit

Clients are invited to call or text us 365 days a year

We provide references upon request

We are members of the National Association of Professional Pet Sitters (and have been featured in their magazine)

We are an A+ Accredited Better Business Bureau member
Knowing that you have done your research and are making the right decision by hiring a local, independent pet sitter will give you peace of mind. 
About Lisa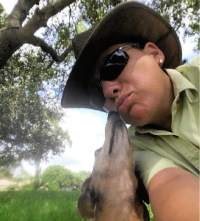 I grew up outside of Baltimore, Maryland. Ever since I can remember, we always had a house full of pets. Dogs, cats, hamsters, horses, goats, geese, ducks, birds… you name it, we had it! I knew my future would include working with animals. 
At 15, I began working in a veterinary office. I started off as a member of the kennel staff and within 6 months my title was Vet Tech. For 10 years I worked with the same veterinarian and gained valuable experience in traditional veterinary medicine including spay and neuter as well as emergency services and surgeries. In 1991 I graduated from Towson University with a degree in biology. 
From 1995 until 2005, I lived in southern California where I studied microbiology and considered going to Vet school.  While attending California State at Long Beach, my work continued as a Vet Tech as I assisted in surgeries and emergency cases. My focus went from becoming a veterinarian to starting my own business.
In 2005, I moved to Florida to be closer to family and A Critter Sitter Co was born and is going (and growing) strong!
My partner Mary and I are sole owners and operators. We consider caring for your pets an absolute privilege and look forward to meeting and serving your family!
To learn more about the services that A Critter Sitter Co provides, visit their website, ACritterSitter.com, call 941-932-7049, or email LisaLewis31@yahoo.com.