Valentine's Day has gone to the dogs! I know. I KNOW!  That sounds a little cheeky, but there's truly no better way to show your pup how much he positively means to you and is loved and appreciated by you than to do only one significant yet simple thing. Simply SHOW UP! It's that easy. I know what you're thinking right about now. What is she talking about? I'm here every day for my buddy. I know you are that's why it's so easy for me to write this article.
It's soon going to be Valentine's Day, and because you're always there for your dog, I thought it would be fun if you planned something extra special for him. You can do it as a family by involving everyone. Or if you don't have family nearby, then it'll be just the two of you. He'll be one terrific Valentine's Day date. So you guys don't have to figure it out by yourselves; I've taken the liberty of researching and listing some things for you to consider.
1)  Throw a Valentine's Day party for your pooch
Approximately three-quarters of dog owners worldwide share a new and growing tradition of special celebrations for their pets. And there couldn't be a better day for showing how much you love your pet than by celebrating with a dog party on the annual day of LOVE itself… Valentine's Day!
Round up your pup, all your doggie friends and their pups, and throw a perfect puppy potluck party.  I know it's a crazy time right now with Covid and how it's changed our world's template; however, our dogs have no conception of what that means. So having a party for them sounds like a terrific idea for them and you as well. Potlucks are always a fun idea and one that your pups and their hoomans will appreciate. (Just be sure to keep social distancing in mind and wear a mask. Require your human friends to wear masks as well. NOTE: Never put a mask on your dog.)
Use your backyard or a dog park, put together some special yummy treats for the pups, and loads of yummy goodies for the pet parents. Don't forget frisbees and tennis balls and I can assure you a good time will be had by all. Oh, and you might just want to whip up a batch of my special no-bake Valentine cookies from this month's doggie treat recipes. You'll not only impress all of your friends with your culinary skills, but all the furry friends will love you forever.
2)  Schedule a doggie spa day for Fido
We all know how special a day of pampering feels. Well, it's no different for your pooch. Whether you opt for a pet spa, a groomer, or a do-it-yourself spa at home, no matter which you choose, your doggie will love the together time he's getting with you. Just remember to do all the basics like brushing, trimming, bathing, clipping, grooming, hugging (lots of hugging is mandatory), loads of treats, and of course, more brushing. And for good measure, more hugging. It's good for both of you. You can never have too much hugging.
3)  Arrange a photoshoot or paw print-photo gift *
Some interesting statistics you may not have known. Today, an estimated 91% of pet parents consider their precious pups as full-blown, card-carrying members of their family — myself included. I'm guessing that if you're reading my article, you are also among them.
If money is not an issue for you, you might want to hire a professional photographer. However, if you're like most of us and on a budget, you'll probably be taking phone photos or using your camera. Just remember to take lots of pictures.
Trust me. Your pup will adore all the love and attention bestowed upon him on his special day. Especially all the extra treats he'll be getting. You'll be making great memories which you'll one day be so happy that you took the time to chronicle.
*Another neat idea is an item that our grandsons gave my husband this past Christmas. It's a paw print-photo gift. This beautiful and thoughtful option can be found on Amazon. It's from Pearhead Pet Pawprint Ink Kit and Picture Frame. It's not that expensive an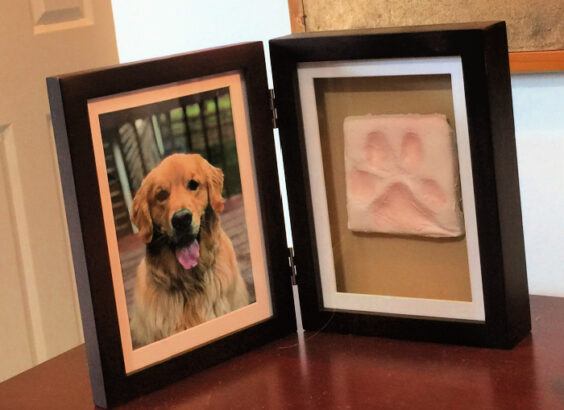 d a gift that will be most appreciated by anyone fortunate enough to receive it. It's one of those gift ideas to keep in your gift-giving notebook. It was one of the most meaningful gifts my husband received. His most cherished photo of his best buddy, Drummer, and Drummer's paw print captured for all-time. Its place of pride is on the fireplace mantel in our bedroom.
4)  How does a canine athletics class sound?
Probably terrific for you younger, more athletic peeps. It would be great for both of you. For your furry friend, however, it means getting your undivided attention with lots of love, praise, and plenty of treats.
Valentine's Day may just be a time to teach him a new trick or to play with interactive puzzles. You can find plenty of ideas here. Maybe you can consider signing up for a refresher obedience class. It's a great way to meet new friends for you both.
5)  Bake homemade doggie treats
Valentine's Day is a terrific time to make a great big batch of special and yummy doggie treats. Your doggies will thank you.  You can find my delicious cookie recipes here.  Every month we publish a new and equally delicious, Cookie of the Month doggie treat recipe for you to pamper and spoil your precious pups. This month we've included a bonus recipe, and both are NO-BAKE! Now, if you really want to get creative, we also have an easy homemade and healthy dog food recipe your pup will love.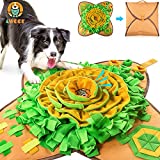 A product that will give him tons of exploring time is an ingenious idea from Amazon called a Snuffle Mat.
It's an interactive feeder that will turn a ho-hum mealtime into a terrific way for him to utilize all of his skills as he ferrets out each tasty morsel.
His very own Supper Club. Dinner and entertainment!
6)  Make a doggie daycare appointment
Even if you can't enjoy the day with him because of your work schedule, that doesn't mean he can't have a blast. And it certainly beats staying at home alone all day. Send him for a play date with lots of fun and friends. He'll have a great time, and when you get home, you guys can celebrate Valentine's Day together. A win-win for you both.
7)  Take your dog to work
Valentine's Day at work sounds like a fun day together. This has become an increasingly new idea for many employers. They are learning to embrace a pet-friendly environment. Fabulous idea! Some studies highlight the benefits of bringing your dog to work. It's not only beneficial for the employee bringing his pooch to work, but for the other employees as well. Just the mere act of someone being able to pet or interact with a dog has proven to reduce stress levels by as much as 11 percent throughout the workday. Very interesting statistics.
Now we know why nearly 20 percent of today's employers permit their employees to bring Fido to work. Studies have also shown that dogs in the workplace are good for business. People seem to trust those more who own a dog. So, if your employer allows pets in the workplace, Valentine's Day is a great time to give your boss and your co-workers the best gift ever. Sharing your precious pup with everyone at work.
8) Here's a no-brainer:  snuggling and cuddling
It costs nothing and is worth its weight in gold. And in case you weren't already aware of this, most dogs aren't interested in PERSONAL SPACE. Rarely do they think, "enough with all this snuggling and cuddling stuff." They just can't get enough of it. This should tell you that, hands down, this is the number one way to show him just how much you adore him. So, snuggle and cuddle away. It's his universal love language and needs absolutely no translation.
9)  Take your dog on a picnic
I know what you're thinking right about now. Has this woman lost her mind? It's winter, and we're up to our eyeballs in snow.
But you have to remember; we have doggie family members all over the globe. Some of us are in cold wintery weather, and others are in warm, balmy climates. So, for those of you in areas with warmer temperatures, a picnic is a no-brainer, of course.  Two of his favorite things are walks and food. Pack a basket of his and your favorite goodies. Something that you both can enjoy, such as apples, carrots, peanut butter, etc. Use your imagination.
And, of course, you can always make up a batch of our homemade doggie treats. Your dog will love them, and he'll love you for making them, especially for him. Don't forget the frisbees and tennis balls. And if you're going for walks on the beach, don't forget plenty of beach towels for drying him off. Living in a warmer climate makes all of this a doable trip. Now, for those of us who live in cold climates, we have to use a little more imagination. BIG TIME!  You just have to be a bit more inventive.
Dogs love the snow. So, take them somewhere where they can run and play and burying their nose in all that white powdery stuff called snow. You can still throw a tennis ball or a frisbee. Trust me; they'll have a ball trying to find it. You can also pack a picnic lunch with all the same goodies as the warm weather pups. You can picnic out of the trunk of your car. That works.
Walks in the cold, snowy woods are a great way to bond with your pup. It's beautiful, serene, and full of memories. No matter where you end up, just keep in mind, you'll be doing it with your best friend.  It doesn't matter to him where you are as long as you are together. It doesn't get much better than that. Just witness the smile on his face. It'll tell you everything you need to know. His love for you is unconditional. And forever!
10)  Stop in a dog-friendly cafe
Check the web to see if your town has a dog-friendly cafe so that when you need that latte fix, you can take Fido along. It'll be good for you both. Some chains even offer doggie-friendly treats on their menu — for example, Puccini's and Puppacino's. Chains like Shake Shack and Starbucks offer these.
You'll want to check to be sure if your local establishment offers these. Sometimes it's a regional thing and not offered by all stores. Do a google search in your town for pet-friendly restaurants and coffee shops. You may be pleasantly surprised.
11)  Take him on a shopping trip
Take him to your local dog-friendly pet boutique and let him wander about selecting his very own toy and/or treat.  It is Valentine's Day. Spoiling is mandatory!
12)  Plan a movie night
If you are lucky enough to have a drive-in movie theater nearby and weather permitting, by all means, pack up your pooch and a basket filled with treats for both of you, and head off to enjoy a movie under the stars.  Drive-in NOT an option? No problem. Netflix works just fine, and it works especially well with all those doggie cuddles. A big bowl of popcorn (only a tiny bit for Fido, however), and a movie selection such as "Lady and The Tramp" or perhaps, "101 Dalmatians." You can't go wrong with either one. Just sayin'!
13)  There is always the dog park
He can run off some energy and even make some new friends. You might even make a new friend, as well. You might even consider a walk on a nearby beach. Just be cognizant of your local beach rules and regulations for dogs on their beach. Always use good manners.
14) Speaking of beaches…
I've compiled a list of some of the best dog-friendly beaches in the United States. This is by no means all of them. It's a small compilation to help you find one near you. It's a list put together with input from both locals and vacationers alike. These are just some of the beaches where people say they enjoy taking their dogs for a little fun. Some may even surprise you. And, no, they're not all in Florida or California.
Montrose Beach, Chicago, IL
Warren Dunes State Park, Sawyer, MI
Double Bluff Beach, Whidby Island, Freeland, WA
Rosie's Dog Beach, Long Beach, CA
Del Mar Dog Beach, Del Mar, CA
Fort Desoto Park, St. Petersburg, FL
Jekyll Island Beach, Jekyll Island, GA
Topsail Beach, Topsail, NC
Nags Head Beach, Nags Head, NC
Wildwood Dog Beach, Wildwood, NJ
Dog Beach, Key West, FL  (there's even a dog-friendly bar at this beach, called Louie's Backyard)
These are only a smattering of dog beaches. Explore the web for some near you. And if you have found some interesting ones you think our readers would like to explore, we'd love for you to share them with us. We'll add them to our list.
15) Splurge on a road trip
Valentine's Day weekend or just an overnight would be an ideal time. I've compiled a small list of several pet-friendly establishments. Traveling with a dog can be challenging at best when looking for an acceptable accommodation. Many places don't allow pets at all. Others may charge a non-refundable pet deposit. Many have restrictions on size, weight, and breed. So, do your homework before making reservations. You don't want to venture off with your furry friend only to find out that when you arrive at your destination that there is NO room at the inn. (Before you get in the car, take a look at our tips for driving with your pooch.) Below is your list of pet-friendly hotels.
1)   HYATT –  you can pamper your pet with Hyatt's offerings, including pillows, doggie beds, pet-friendly door hangers, and more. Some locations even have a special doggie menu and offer a "Yappy Hour." Fun for your whole family!
2)  LA QUINTA –  They have over 700 pet-friendly locations, and pets are allowed in your room. No additional fees or deposits required — a big plus.
3)  KIMPTON HOTELS  –  Kimpton has the coolest pet regulations… EVER!  If your pup can fit through their hotel doors, he is welcome. PERIOD! No size. No breed. No weight. NO NOTHING! He's simply welcome. And absolutely no add-ons. You'll never find any additional charges tacked on. No surprises. Oh, and another huge plus. A hosted wine hour for pet parents. They have 67 properties in 37 cities across the U.S. They offer plush pet beds, bowls, water, food, and mats. Google them for all their amenities for both you and Fido.
4)  CHOICE HOTELS  –  Featuring 11 of their brands, including Comfort Inn, Sleep Inn, Clarion, Rodeway Inn, Quality Inn, Econo Lodge, WoodSpring Suites, Suburban Extended Stay, Ascend Hotel Collection, MainStay Suites.  Choice Hotels offer more than 3500 pet-friendly locations where your pups can stay with you. But you'll need to call ahead for each location's specific pet policy.
5)  RED ROOF INN  –  This is both a budget-friendly and pet-friendly chain. They always welcome dogs and have no additional fees for staying with your pet.
6)  HOLIDAY INN  – You'll need to do your homework as NOT all Holiday Inns are pet-friendly. However, the list that does allow pets is extensive. They offer a complete list online.
7)  VRBO (Vacation Rentals By Owner)  Again, you'll need to do your homework as all VRBO properties are NOT pet-friendly.
I hope I've given you a little bit of information to help in choosing the right property for you and your pooch. No matter which options you decide upon, it's always wise to call ahead to verify that your pup will indeed be a welcomed visitor. Always inquire what amenities may be available (dog bowls, beds, waste bags, etc.). This little bit of knowledge can lessen the burden of packing for Fido.
There's also another excellent resource for helping you find pet-friendly hotels, restaurants, events, and more, BringFido.com. They even donate proceeds to many pet charities, humane societies, and rescue organizations yearly. You'll help save a homeless pet every time you book a hotel room through BringFido.com. A wonderful and generous idea.
I have listed just a few fun Valentine's Day or evening, or weekend things to do with your pups. Use your imagination and plan for a fun date with your dog, whether it's just the two of you or your entire family. No matter what.  Make it fun-filled and memorable.  Take loads of photos and videos. You'll be glad you did. And we would be honored if you would share them with all of us here on goodolddoggie.com; our Facebook group, Our Good Old Doggie Family, and our YouTube Channel Good Old Doggie.
We've come a long way from just a few months ago when we only had a dream for a special place for our doggies. We want you to know how appreciative we are of your generosity of kindness and your faith in our ability to continually bring fun, informative posts, and all things doggie for you all to enjoy.
Thank you, and we wish you and your pups a safe, healthy, and happy Valentine's Day.
Love,
Carroll and Lisa, Big Drummer and Little Fancy