Sweet potato is tasty and healthy, and it's the star ingredient of this month's cookie, Sweet Potato Dog Treats. Low in fat, chock full of vitamins, and high in fiber content, sweet potato also helps support a sound digestive system.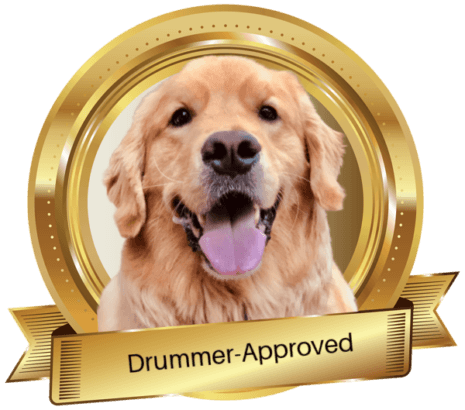 Drummer, our resident taste tester, has approved this recipe! And it's an easy one to follow. Prep Time: 20 minutes, Bake Time: 50 minutes.  Preheat oven: 350 degrees. Now we're ready to begin.
Tip
If you want to get creative and surprise your friends, do what I did. Order the Home-X Cookie Stamp Set. It contains 96 pieces, which allows you to imprint messages, names, numbers, and more onto your cookies. This adds a personal touch to your homemade Good Old Doggie Cookie of the Month recipes. They snap together allowing you the flexibility to imprint anything onto your cookie, such as your friend's doggie's name. Or maybe Merry Christmas Rover, Happy Birthday Fido, Get Well Harley. The Home-X Cookie Stamp Set has the highest rating for cookie stamps on Amazon.
Ingredients
2 Large eggs
¼ Cup olive oil
1 Cup cooked and mashed sweet potatoes
2-1/2 Cups wheat or oat flour
Instructions
1)   In a medium-size bowl, combine eggs, oil, and sweet potatoes.
2)  Whisk until smooth and creamy.
3)  Slowly add flour – a little at a time.
4)  Dust work area with flour. Use a pastry cloth or silicone pastry mats.
5)  Roll out dough with dusted rolling pin, to about 3/8 inch thick. Use your cookie cutters and have fun.
6)  Place cutout shapes on prepared cookie sheet or silicone pastry mat.
Optional: Stamp a name or phrase in the cutout shapes.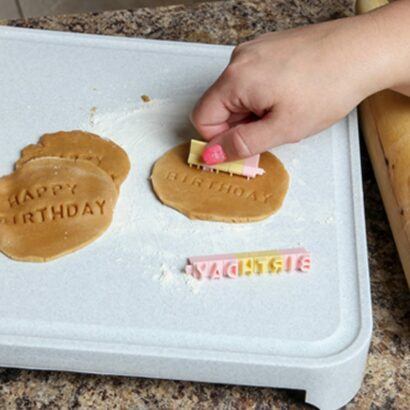 Just use your imagination and have fun while making your cookies a little more special. It's also a great way to have your kids involved as well. They can stamp the message and/or the name on the cookie and they'll feel pretty important having had a part in the doggie cookie baking. The stamps are made of durable plastic, and the kit includes 68 letters, 20 numbers, 8 symbols, and a drawstring pouch to contain them all so nothing gets lost. Each piece is about 3/8 inch high.
7)  Bake 20 minutes at 350-degree oven.
8)  Now reduce heat to 300 degrees, turn over the treats, and continue baking for an additional 25 – 30 minutes.
Cool completely on rack before storing in airtight container in fridge or freezer. Yields about 50.
"Bone" Appetit!
P.S. Have fun and please send pictures of your creations so we can post them on our website, goodolddoggie.com, and our companion Facebook group, Good Old Doggie. We'd all enjoy seeing them and also how you wrapped them to give as a gift.