Keep your dogs engaged in a productive way. Instead of allowing them to explore your designer shoes, handbags, homework, and otherwise enticing doggie items, give them some healthy mental stimulation toys for dogs, designed to challenge and entertain! Here are just a few.
5 of the Best Dog Toys for Mental Stimulation
Excerpts from Hepper.com thanks to our correspondent, Luke Murray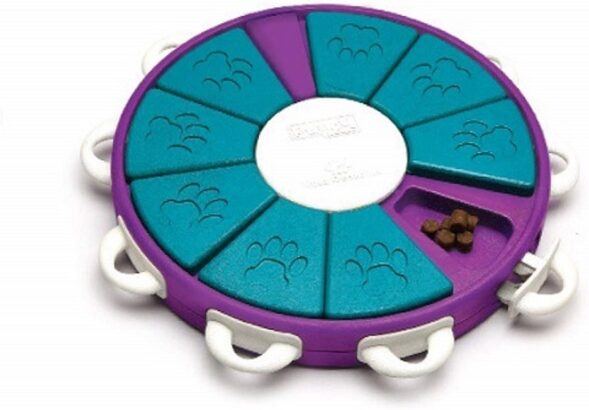 The Nina Ottosson 67335 Dog Twister Dog Puzzle Toy is our choice for the best overall mental stimulation dog toy. It features a Level 3 advanced puzzle for your pet to complete and teaches them sequential step problem-solving. It has nine compartments for treats with sliding lids and nine locking handles. It's easy to clean with a damp cloth.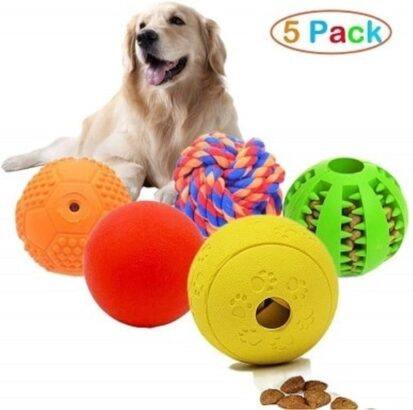 The VolacoPets 5 Different Functions Interactive Dog Toys is our premium choice mental stimulation dog toy, and it's for someone willing to spend a few extra dollars for the best toy. The VolacoPets brand features five different balls to stimulate your pet in different situations. A squeaky ball and treat dropping ball help your pet through loneliness and boredom. A natural rubber ball and a rope ball are for outdoor play, while one last ball is designed to clean your pet's teeth while they play. Not suited for larger dogs or excessive chewers.

The KONG 41938 Classic Dog Toy is a favorite for dogs that like to fetch and chew. These Kongs come in many sizes for any size pet, and they feature an extremely durable design. These toys feature a hole in one side for loading them with treats and peanut butter. You can even freeze it for a great summer treat, and it's dishwasher safe, so there are no worries about keeping it clean. It features a unique design that bounces unpredictably and helps keep your dog entertained.

The West Paw 566 Zogoflex Tux Interactive Dog Chew Toy is an extremely tough and durable dog toy. It's designed to stand up to the toughest chewers and uses safe, non-toxic, BPA-free rubber. It floats, so it makes a perfect fetch toy for playing around water. It's also dishwasher safe, so it's easy to clean after you've stuffed it with treats.
StarMark Bob-A-Lot Interactive Dog Toy

The StarMark SMBAL Bob-A-Lot Interactive Dog Toy features an extra-large food compartment and can hold up to 3 cups of food or treats. This large compartment allows you to use it as a dinner dispenser that will stimulate the mind of your pet and slow down their eating. This toy is an excellent solution for pets with a fast-eating disorder. Adjustable openings help regulate the flow of food, and it has durable plastic housing. A weighted anti-slip bottom causes the toy to wobble unpredictably, providing plenty of fun for your pet and entertainment for you.
For additional doggie shopping ideas, be sure to visit a modest but fun selection at the shopping section of GoodOldDoggie.com.