The solutions that worked for me
Some small dog breeds are notorious for being fussy eaters. Yorkies and Maltese dogs are among them. My small breed dogs have always been Chihuahuas, and only one of them was a fussy eater, until now. Fancy used to have a normal appetite until two months ago. That's when we lost her "sister," an English Springer Spaniel named Angelle.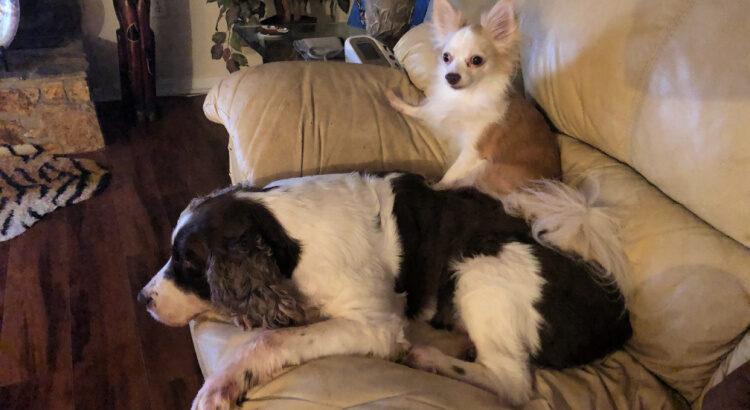 Angelle was a voracious eater. So much so that when she started gaining too much weight, we began adding fresh green beans as a filler to a smaller amount of kibble. She would scarf up vast mouthfuls of beans at a time, causing some of them to scatter on the floor.
Fancy was quick to grab them. On the other hand, if Fancy was slow to eat her kibble, Angelle would steal it. It didn't take Fancy long to figure out that if she didn't eat her kibble, Angelle would, as we weren't always quick enough to stop her.
Within a few days of Angelle's passing, Fancy lost interest in her food.
We think it's either because she was saddened by losing her companion, and/or that the competition for food no longer existed. I tried feeding Fancy various brands of fresh pet food from the fridge at Walmart; she wasn't interested. Then I tried a favorite of a previous pup, Cesar's Filet Mignon wet food. She ate it, but grudgingly. So, I switched to chicken from beef. Success!
The great news is that Cesar's now makes "minis" and you can get them from Chewy.com. Fancy loves the variety pack that includes Grilled Chicken Flavor with Vegetables, and Slow-Cooked Chicken Dinner filets in Gravy. She is just under 10 pounds, so I give her half a mini three times a day. It's a little less than what the company recommends, but we also give her treats – which she never stopped eating. But at least now I know she's getting the nutrients she needs.
Here's what I love about this variety pack:
Every purchase comes with a case of 12, 2.64 oz. twin pack trays and two recipes—Grilled Chicken Flavor with Vegetables and Slow Cooked Chicken & Vegetables Dinner
Soft, mouthwatering filets in a lickable gravy
Made in the USA with real US chicken as the #1 ingredient
Served in convenient trays with easy, peel-away freshness seals
Crafted for adult to senior sidekicks of all sizes and made without artificial flavors or fillers
For my other Chihuahua that just wasn't all that interested in eating, I gave her a high-calorie supplement called Nutri-Cal. I was about to do the same for Fancy before we found the food she likes to eat. Nutri-Cal is packed with vitamins and minerals and apparently has an irresistible taste that dogs love. The best part of it is that it works.
Here are the key benefits according to the Tomlyn, the manufacturer:
Supports and boosts a healthy appetite: irresistible taste that is ideal for picky eaters and sickly pets that are off food
Great for active, hunting, or working dogs. Also beneficial to sick or stressed dogs, dogs with a suppressed appetite, or pups that need extra vitamins added to their diet*
Concentrated formula — packed with carbohydrates, vitamins, minerals, and essential fatty acids (omegas 3, 6, and 9)
Veterinarian formulated for adult dogs
Palatable gel is easy and enjoyable to administer
*Note: Tomlyn also makes a formula just for puppies, which I have also successfully used.
Is your dog a fussy eater? Do you have any tips to share? Tell us in the Comments section below!