Dog paw pads for traction is a topic near and dear to my heart. Our home is, in one sense, dog-proof in that we replaced all carpeted areas with either tile or hardwood floors. So unintentional messes are easy to clean up. On the other hand, as our English Springer Spaniel has aged and her legs have weakened, she has great difficulty standing or walking on these slippery surfaces. So I went looking for solutions. I found and tried many self-adhesive traction paw pads for dogs. These pads are basically paw-shaped stickers with rubber grips on the bottom.

Traction paw pads for dogs: They work!
What a blessing to have discovered these products. They are breathable, disposable, and hypoallergenic. They do work and have been a life-saver for me, as it was breaking my heart each time I saw my dog slip and fall. Now, they are not perfect. They don't last very long here in Florida and require frequent replacement. When they get wet, as they often do here during the rainy season, they fall right off. But, when on, they have given my old dog a visible sense of confidence as she walks from room to room with ease, and me, a great sense of relief.
Besides preventing your dog from slipping and falling on tile and hardwood floors, traction paw pads add cushioning, which not only provides comfort but also protects your dog's feet from hot pavement, sharp rocks, and minor injuries. Although they claim to protect your dog's feet from snow, I imagine that moisture from the snow would cause them to lose their adhesive very quickly. They come in a variety of sizes with instructions for measuring before ordering. Unlike boots or socks for dogs, your dog will not mind nor likely even notice them. Just be sure to trim your dog's nails as well as any fur on the bottom of their feet before applying the pads.
Brands of paw pads that I've tried
I tried and tested three brands, starting with LOOBANI because of all the positive reviews. They come in a package of 12 sets of four for a total of 48 pads. The manufacturer states that they last 2 to 7 days, depending on your dog's level of activity. Our old girl is quite sedentary and they only last a day or two. Part of their lack of longevity could be that we live in Florida, where the humidity causes the adhesive to weaken more rapidly. At first, I was replacing all four pads when one started coming off – by moistening a paper towel and applying it to the pad to loosen the adhesive, but I've since found it's better to replace each one only as needed.
VIEW ON AMAZON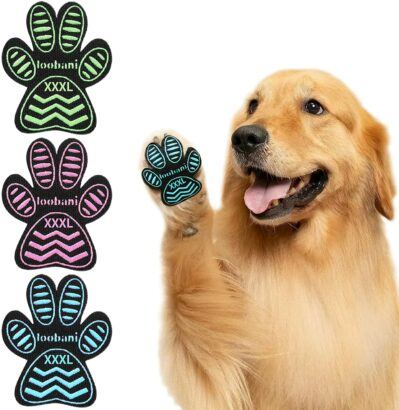 From the manufacturer
Our advantages over similar products:
More traction: The thick rubber spots increase the friction and grip
No discomfort: Most dogs refuse to wear booties or socks. But these pads don't bother your furry friends
Excellent extensibility: These pads are soft and sized to fit the paws, you don't have to cut them to fit
Easy to use: No liquid glue and No mess; Just paste the sticker on the bottom of the paws
I reordered these four times. But I waited too long before placing the fifth order. I had already run out. So I found a similar product that was available for next-day delivery. Except for the branding on the pad (PickForLife) and the quantity in the package (24 vs. 48), they seem to be exactly the same!
VIEW ON AMAZON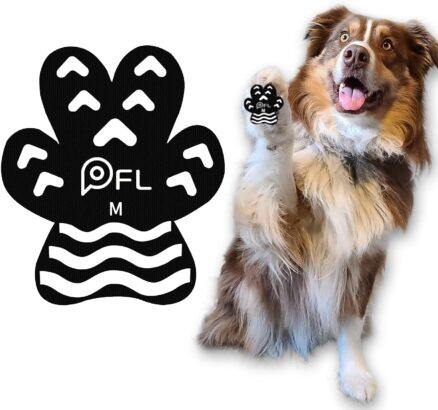 From the manufacturer
UPGRADED paw pad with thicker grips and stronger hypoallergenic adhesive; Last longer for indoor wear
NON-SLIP silicone gel print on the pads to provide extra traction for senior dogs with weak paws on a slippery floor
NO DISCOMFORT Don't feel hot and unbreathable especially in Summer compare to socks or booties
EASY TO PUT ON the paws without a mess, and your doggy does not notice them and won't lick them off
XXL SIZE suggested for dogs weighing around 61-80 pounds, a good fit for Labrador, Golden Retriever, Boxer, and Dalmation
As I suspected from their appearance, they performed just like the Loobani pads. At the same time that I ordered these, I also ordered a third brand that appeared to be thicker and sturdier. I knew I would use them all, so why not? At five stars, they are rated one-half star higher than the first two.
From the manufacturer
NO DISCOMFORT: The pet paw protector is made of breathable cloth. It causes no discomfort, and it will not fall off easily because it is sticky. The dog's paw protector is a disposable item and cannot be used repeatedly
PROTECTION: The dog traction pad has the function of anti-slip, which enables the dog to walk confidently indoors, protects the dog from direct contact with the high-temperature ground in the summer, and protects dog paws from cold snow in winter
SAFETY AND GRIP: The dog's non-slip pad is non-toxic and environmentally friendly. The bottom silicone gel enhances friction and provides extra traction for some dogs on a smooth floor
EASY TO WEAR: The non-slip pad is strong and sticky, which fits the soles better, but requires the dog's nails to be trimmed beforehand
SIZES TO CHOOSE FROM: The pads come in 3 different sizes. Please measure and select the appropriate size carefully 
It might be my imagination, but these pads do seem to be a little thicker, and the adhesive seems stronger. They appear to be lasting just a bit longer, too. But they are all so similar, and there are so many good brands out there. I just wanted to share my personal experience with these three. I recommend you try them for yourself and decide which one works best for your old pup. Whichever you choose, you are bound to see a dramatic difference in how easily your dog can get up from a lying position and walk without falling. My dog is not only moving around with less effort but also very quickly!
Besides paw pads, there are shoes, boots, and socks designed for traction. I will be reviewing these in upcoming posts, having tried them all. My dog has recently been diagnosed with idiopathic vestibular disease, similar to vertigo in humans. It is difficult enough to see her struggle to find her direction without adding the discomfort and further confusion these products seemed to cause. So in my particular situation, the pads work best. Yours is likely different. Stay tuned for more.