These carry-ons are irresistibly cute! They belong to Chariot Travelware's whimsical collections, available at Amazon. You can bet you'll receive compliments on your carry-on when sporting one of these.
(Tip: Click on any of these names to see their full description on Amazon, then scroll down to the bottom of the page to view the complete collection.)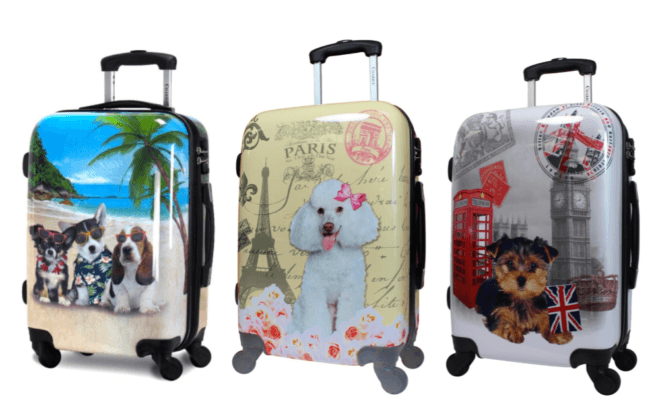 And they're not just adorable. Once we got over being bow-wowed by these designs, we took a closer look at the pros and cons of the performance, durability, and ease of use of these 20″ lightweight spinner carry-ons.
PROS
Lightweight
Solid hard side shell
Four 360 Spinner wheels
TSA combination lock
Roomy and fully-lined interior
Top and side grip handles
Easily Expandable 
Lightweight
Each of these cuties come in at 7.1 lbs., making hoisting them into overhead bins a breeze. Because they are so light, they're easy to lift for most travelers, including kids and seniors.
Solid hard side shell
The outer shell is constructed of polycarbonate ABS, a newer, sturdy yet lightweight material resistant to cracks and scratches. The hard shell case protects fragile items from damage, including delicate electronics such as cameras, iPads, and laptops. It is more likely than soft shell luggage to stay dry in rain, snow, or puddles. A big plus, in light of COVID-19, this hard shell luggage is easy to wipe down and disinfect. (For the latest on CVID-19, visit the CDC website.)
360 Spinner wheels
Having four spinner wheels versus two roller wheels makes these carry-ons more stable and less likely to tip over. The spinner wheels also allow your Chariot carry-on to glide effortlessly beside you, without straining your back, rather than having to lug it behind you. The wheels on this collection seem to be well-built and roll smoothly in all directions.
TSA combination lock
A three-digit TSA combination lock is conveniently built-in to each of these carry-ons. What is a TSA combination lock? The lock is approved by the Transportation Security Administration (TSA) and includes a keyhole that works with a TSA master key. This master key is only available to the TSA, so agents can access your luggage if needed, but the lock remains locked and luggage inaccessible to anyone else. You set your own three-digit code to open and close the suitcase.
Roomy and fully-lined interior
The carry-on is roomier than expected, with what appears to be a quality fabric completely lining its interior. Customers consistently comment on how spacious these seemingly small suitcases are. The inside also features a zippered storage compartment as well as tie-down straps to keep belongings neatly in place.
Top and side grip handles
One of the features that adds to its portability is the top and side grip handles. Extend the telescopic handle on top for rolling, and use the side grip handle for carrying and lifting. The telescopic handle is durable and features a lightweight design.
Expandable
Adding to its functionality is the ability to expand the storage space when needed. Unzip to take advantage of another couple of inches. The hardware is of superior quality, and that includes the zippers which move smoothly and don't stick. Chariot luggage comes with a 5-year limited warranty.
CONS
While we found little to no complaints about or deficiencies of these cute cases, it's important to note that hard shell suitcases, in general, may not be for you if:
You lack sufficient storage space
You require an outside pocket
That being said, it's important to note the results of Consumer Reports research on soft-sided vs. hard shell luggage:
"Hard-sided luggage is typically limited to a standard suitcase shape in both carry-on and checked-bag sizes. Yet consumers have a growing interest in the category, thanks in part to new materials that are lightweight and strong.

Of the more than 38,000 CR members we surveyed last fall about the piece of luggage they use the most, 24 percent said they chose hard-sided luggage for their medium- and large-sized checked suitcases, up from 21 percent two years earlier. Seventeen percent chose hard-sided carry-ons, an increase from 14 percent over the same period."
 CONCLUSION
Based on feedback from dozens of people who have purchased the Chariot line of carry-ons, we recommend this line for durability, portability, and head-turning good looks. Chariot features a line of carry-ons for cat lovers too and offers entire collections of other uplifting themes. They also offer matching 3-piece ensembles that include full-sized suitcases. Chariot offers a 5-year limited warranty on all of their products.