The Rainbow Bridge and what it means to me
I think the term "crossing the Rainbow Bridge" is perhaps one of the most poignant references to feelings of hope. After all, hope is lost as we bid farewell to our loving, compassionate, non-judgmental friend and companion to the very end.
Where did this phrase "crossing the Rainbow Bridge" come from, and when, you might ask? I know I have asked myself that very question countless times. I, like most of you, knew the premise behind the terminology, but I wanted to understand how it all came about.
It's believed to have originated in the 1980s, and 1990s, in several works of poetry, which were meant to help relieve the immense pain suffered by those who lost their pet. According to those poems, our deceased pet crosses over that Rainbow Bridge to gently rolling fields of emerald green velvet. Skies forever filled with sunshine.
Warm days and cold nights peppered with balmy breezes. Azure blue skies and fluffy clouds like cotton candy. Plenty of crisp, clear, fresh streams to drink from and splash in. No more pain, EVER! Their health fully restored, affording them the freedom to run and play as they did in their prime. To once again, be that happy, playful pup of years gone by far too quickly. Plenty of food and water and treats.
An endless supply of tennis balls and frisbees. And, yes, all the sticks they want. He has plenty of old and new friends to play with all day long. To keep his mind content and happy except for the times he cannot help but miss his humans. Those special people he had to leave behind.  Many hearts broke that terrible day. One could say goodbye; the other could only hear their words. See their tears. They could only hope and pray that their companion knew how much they would be missed.
Today will be a different day. As he runs with his friends through that verdant meadow, something makes him stop. Drop his stick. The dynamic of the meadow has suddenly changed. Something in the distance beckons him. He asked himself as he gazes at the horizon, "Could it be?  Could it be?"
His whiskey-colored eyes grow larger as he sees what is approaching. His body quivers like a lonely leaf on a windy day. His tail begins wagging uncontrollably, and he takes off across that meadow like a solid rocket booster, running faster than he's ever run before. Each, spotting the other, tears of joy streaming down the face of his companion as he runs to meet, once again, his long lost and forever loved, best friend.
He falls to the ground, filled with more love than he's ever known, as his pet devours him with kisses. You cling to him while your kisses and tears of joy flow like warm honey all over his wiggling, waggling body. You run your fingers through his thick bountiful coat. Rub him behind his ears as you did so many years ago. You kiss him on top of his magnificent head, all the while, your tears of happiness rain down upon God's perfect creature.
Through a veil of tears, your eyes meet, and gazes are held. Once again, God has allowed you to gaze into the trusting and loving eyes of your faithful companion. In those eyes, you can see a lifetime of amazing tales. In time, he will reveal all to you.
But, today is not that day. He may have been absent from your life, but NEVER FROM YOUR HEART.  And, as the story goes, from this day forward, you'll never be apart again. Together, side by side, you both cross back over the Rainbow Bridge and enter through the spectacular Gates of Heaven.
This is my take on the story of the Rainbow Bridge and just what it means to me. It's how I elect to envision it. I hope I'm right, and when I cross over that beautiful bridge, every pup we've lost throughout our lifetime will indeed be there all lined up and ready to greet me. Free of pain as they run freely on strong legs and powerful bodies to slather me with all their love and kisses.
That will be a truly magical and joyful day as God's creatures escort me into Heaven.
---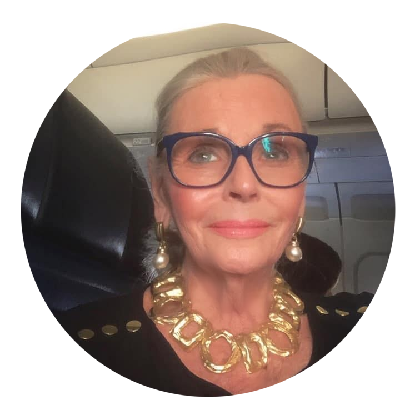 Good Old Doggie Correspondent Carroll Regan deCarle is a passionate dog lover, having had German Shepherds, Keeshonds, and Golden Retrievers. Her current best friend is a cuddly, yet mischievous Golden Retriever named Drummer. Carroll is a published author and motivational speaker. Despite her many accomplishments both online and off, she calls herself "The Non-Wizard of the Worldwide Web."
Visit Carroll on Facebook and Linkedin. Email Carroll@GoodOldDoggie.com
---
`